ACITRETIN
DIR Classification
Classification:
Most-DIR concern
Description in Drug Labeling: View Full Labeling: SPL in DailyMed | PDF
WARNINGS
Capillary Leak Syndrome:
Capillary leak syndrome, a potential manifestation of retinoic acid syndrome, has been reported in patients receiving acitretin. Features of this syndrome may include localized or generalized edema with secondary weight gain, fever, and hypotension. Rhabdomyolysis and myalgias have been reported in association with capillary leak syndrome, and laboratory tests may reveal neutrophilia, hypoalbuminemia, and an elevated hematocrit. Discontinue acitretin if capillary leak syndrome develops during therapy.
Postmarketing Surveillance
Odds Ratio = 1.597
Drug Property Information
ATC Code(s):
D05BB02 -

acitretin

D05BB -

Retinoids for treatment of psoriasis

D05B -

ANTIPSORIATICS FOR SYSTEMIC USE

D05 -

ANTIPSORIATICS

D -

DERMATOLOGICALS
Active Ingredient:
acitretin
Active Ingredient UNII:
LCH760E9T7
Route(s) Of Administrator:
oral
Chemical Structure: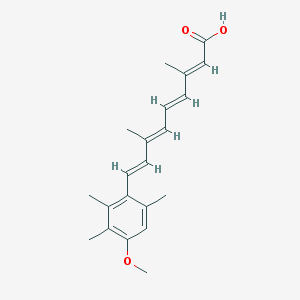 SMILE Code:
CC1=CC(=C(C(=C1/C=C/C(=C/C=C/C(=C/C(=O)O)/C)/C)C)C)OC
Reference
OTHER REFERENCE(S):
1: Neuromuscular adverse effects associated with systemic retinoid dermatotherapy: monitoring and treatment algorithm for clinicians.
[Chroni Elisabeth,Monastirli Alexandra,Tsambaos Dionysios]
Drug Saf.2010 Jan 1;33(1):25-34. doi: 10.2165/11319020-000000000-00000.
PMID: 20000864