CANDESARTAN CILEXETIL
DIR Classification
Classification:
Less-DIR concern
Description in Drug Labeling: View Full Labeling: SPL in DailyMed | PDF
ADVERSE REACTIONS
Postmarketing Experience
The following adverse reactions were identified during post-approval use of candesartan cilexetil. Because these reactions are reported voluntarily from a population of uncertain size, it is not always possible to reliably estimate their frequency or establish a causal relationship to drug exposure.
The following have been very rarely reported in post-marketing experience:
Digestive
Abnormal hepatic function and hepatitis.
Hematologic
Neutropenia, leukopenia, and agranulocytosis.
Immunologic
Angioedema.
Metabolic and Nutritional Disorders
Hyperkalemia, hyponatremia.
Respiratory System Disorders
Cough.
Skin and Appendages Disorders
Pruritus, rash and urticaria.
Rare reports of rhabdomyolysis have been reported in patients receiving angiotensin II receptor blockers.
Postmarketing Surveillance
Contingency Table:
Other ADRs
10141
14107138
Odds Ratio = 6.94
Drug Property Information
ATC Code(s):
C09CA06 -

candesartan cilexetil

C09CA -

"Angiotensin II antagonists, plain"

C09C -

"ANGIOTENSIN II ANTAGONISTS, PLAIN"

C09 -

AGENTS ACTING ON THE RENIN-ANGIOTENSIN SYSTEM

C -

CARDIOVASCULAR SYSTEM
C09DB07 -

candesartan cilexetil

C09DB -

Angiotensin II antagonists and calcium channel blockers

C09D -

"ANGIOTENSIN II ANTAGONISTS, COMBINATIONS"

C09 -

AGENTS ACTING ON THE RENIN-ANGIOTENSIN SYSTEM

C -

CARDIOVASCULAR SYSTEM
C09DA06 -

candesartan cilexetil

C09DA -

Angiotensin II antagonists and diuretics

C09D -

"ANGIOTENSIN II ANTAGONISTS, COMBINATIONS"

C09 -

AGENTS ACTING ON THE RENIN-ANGIOTENSIN SYSTEM

C -

CARDIOVASCULAR SYSTEM
Active Ingredient:
candesartan cilexetil
Active Ingredient UNII:
R85M2X0D68
Route(s) Of Administrator:
oral
Chemical Structure: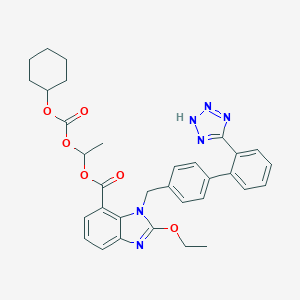 SMILE Code:
CCOC1=NC2=CC=CC(=C2N1CC3=CC=C(C=C3)C4=CC=CC=C4C5=NNN=N5)C(=O)OC(C)OC(=O)OC6CCCCC6