BUPROPION HYDROBROMIDE
DIR Classification
Classification:
Moderate-DIR concern
Description in Drug Labeling: View Full Labeling: SPL in DailyMed | PDF
ADVERSE REACTIONS
Postmarketing Experience
The following adverse reactions have been identified during post approval use of APLENZIN. Because these reactions are reported voluntarily from a population of uncertain size, it is not always possible to reliably estimate their frequency or establish a causal relationship to drug exposure.
Body (General)
Chills, facial edema, edema, peripheral edema, musculoskeletal chest pain, photosensitivity, and malaise.
Cardiovascular
Postural hypotension, stroke, vasodilation, syncope, complete atrioventricular block, extrasystoles, myocardial infarction, phlebitis, and pulmonary embolism.
Digestive
Abnormal liver function, bruxism, gastric reflux, gingivitis, glossitis, increased salivation, jaundice, mouth ulcers, stomatitis, thirst, edema of tongue, colitis, esophagitis, gastrointestinal hemorrhage, gum hemorrhage, hepatitis, intestinal perforation, liver damage, pancreatitis, and stomach ulcer.
Endocrine
Hyperglycemia, hypoglycemia, and syndrome of inappropriate antidiuretic hormone secretion.
Hemic and Lymphatic
Ecchymosis, anemia, leukocytosis, leukopenia, lymphadenopathy, pancytopenia, and thrombocytopenia. Altered PT and/or INR, associated with hemorrhagic or thrombotic complications, were observed when bupropion was coadministered with warfarin.
Metabolic and Nutritional
Glycosuria.
Musculoskeletal
Leg cramps, fever/rhabdomyolysis, and muscle weakness.
Nervous System
Abnormal coordination, depersonalization, emotional lability, hyperkinesia, hypertonia, hypesthesia, vertigo, amnesia, ataxia, derealization, abnormal electroencephalogram (EEG), aggression, akinesia, aphasia, coma, dysarthria, dyskinesia, dystonia, euphoria, extrapyramidal syndrome, hypokinesia, increased libido, neuralgia, neuropathy, paranoid ideation, restlessness, suicide attempt, and unmasking tardive dyskinesia.
Respiratory
Bronchospasm and pneumonia.
Skin
Maculopapular rash, alopecia, angioedema, exfoliative dermatitis, and hirsutism.
Special Senses
Accommodation abnormality, dry eye, deafness, increased intraocular pressure, angle-closure glaucoma, and mydriasis.
Urogenital
Impotence, polyuria, prostate disorder, abnormal ejaculation, cystitis, dyspareunia, dysuria, gynecomastia, menopause, painful erection, salpingitis, urinary incontinence, urinary retention, and vaginitis.
OVERDOSAGE
Human Overdose Experience
Overdoses of up to 30 grams or more of bupropion have been reported. Seizure was reported in approximately one third of all cases. Other serious reactions reported with overdoses of bupropion alone included hallucinations, loss of consciousness, sinus tachycardia, and ECG changes such as conduction disturbances or arrhythmias. Fever, muscle rigidity, rhabdomyolysis, hypotension, stupor, coma, and respiratory failure have been reported mainly when bupropion was part of multiple drug overdoses.
Although most patients recovered without sequelae, deaths associated with overdoses of bupropion alone have been reported in patients ingesting large doses of the drug. Multiple uncontrolled seizures, bradycardia, cardiac failure, and cardiac arrest prior to death were reported in these patients.
Postmarketing Surveillance
Odds Ratio = N/A
Drug Property Information
ATC Code(s):
A08AA62 -

bupropion hydrobromide

A08AA -

Centrally acting antiobesity products

A08A -

"ANTIOBESITY PREPARATIONS, EXCL. DIET PRODUCTS"

A08 -

"ANTIOBESITY PREPARATIONS, EXCL. DIET PRODUCTS"

A -

ALIMENTARY TRACT AND METABOLISM
N06AX12 -

bupropion hydrobromide

N06AX -

Other antidepressants

N06A -

ANTIDEPRESSANTS

N06 -

PSYCHOANALEPTICS

N -

NERVOUS SYSTEM
Active Ingredient:
bupropion hydrobromide
Active Ingredient UNII:
E70G3G5863
Dosage Form(s):
tablet, extended release
Route(s) Of Administrator:
oral
Chemical Structure: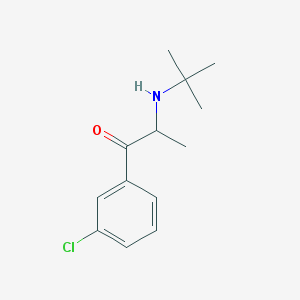 SMILE Code:
CC(C(=O)C1=CC(=CC=C1)Cl)NC(C)(C)C