ASENAPINE MALEATE
DIR Classification
Classification:
Most-DIR concern
Description in Drug Labeling: View Full Labeling: SPL in DailyMed | PDF
WARNINGS AND PRECAUTIONS
Neuroleptic Malignant Syndrome
A potentially fatal symptom complex sometimes referred to as Neuroleptic Malignant Syndrome (NMS) has been reported in association with administration of antipsychotic drugs, including SAPHRIS. Clinical manifestations of NMS are hyperpyrexia, muscle rigidity, altered mental status, and evidence of autonomic instability (irregular pulse or blood pressure, tachycardia, diaphoresis, and cardiac dysrhythmia). Additional signs may include elevated creatine phosphokinase, myoglobinuria (rhabdomyolysis), and acute renal failure.
The diagnostic evaluation of patients with this syndrome is complicated. It is important to exclude cases where the clinical presentation includes both serious medical illness (e.g. pneumonia, systemic infection) and untreated or inadequately treated extrapyramidal signs and symptoms (EPS). Other important considerations in the differential diagnosis include central anticholinergic toxicity, heat stroke, drug fever, and primary central nervous system pathology.
The management of NMS should include: 1) immediate discontinuation of antipsychotic drugs and other drugs not essential to concurrent therapy; 2) intensive symptomatic treatment and medical monitoring; and 3) treatment of any concomitant serious medical problems for which specific treatments are available. There is no general agreement about specific pharmacological treatment regimens for NMS.
If a patient requires antipsychotic drug treatment after recovery from NMS, the potential reintroduction of drug therapy should be carefully considered. The patient should be carefully monitored, since recurrences of NMS have been reported.
Postmarketing Surveillance
Odds Ratio = 0.76
Drug Property Information
ATC Code(s):
N05AH05 -

asenapine maleate
Active Ingredient:
asenapine maleate
Active Ingredient UNII:
CU9463U2E2
Route(s) Of Administrator:
sublingual
Chemical Structure: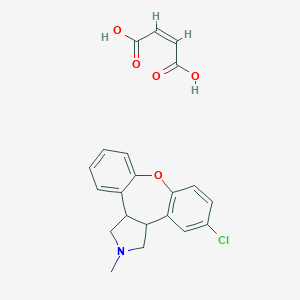 SMILE Code:
CN1CC2C(C1)C3=C(C=CC(=C3)Cl)OC4=CC=CC=C24.C(=C\C(=O)O)\C(=O)O