ALISKIREN HEMIFUMARATE
DIR Classification
Classification:
Less-DIR concern
Description in Drug Labeling: View Full Labeling: SPL in DailyMed | PDF
ADVERSE REACTIONS
Clinical Trials Experience
Clinical Laboratory Findings
In controlled clinical trials, clinically relevant changes in standard laboratory parameters were rarely associated with the administration of Tekturna in patients with hypertension not concomitantly treated with an ARB or ACEI. In multiple-dose studies in hypertensive patients, Tekturna had no clinically important effects on total cholesterol, HDL, fasting triglycerides, or fasting glucose.
Blood Urea Nitrogen, Creatinine: In patients with hypertension not concomitantly treated with an ARB or ACEI, minor increases in blood urea nitrogen (BUN) or serum creatinine were observed in less than 7% of patients treated with Tekturna alone versus 6% on placebo [see Warnings and Precautions (5.2)].
Hemoglobin and Hematocrit: Small decreases in hemoglobin and hematocrit (mean decreases of approximately 0.08 g/dL and 0.16 volume percent, respectively, for all aliskiren monotherapy) were observed. The decreases were dose-related and were 0.24 g/dL and 0.79 volume percent for 600 mg daily. This effect is also seen with other agents acting on the renin angiotensin system, such as angiotensin inhibitors and ARBs and may be mediated by reduction of angiotensin II which stimulates erythropoietin production via the AT1 receptor. These decreases led to slight increases in rates of anemia with aliskiren compared to placebo were observed (0.1% for any aliskiren use, 0.3% for aliskiren 600 mg daily, versus 0% for placebo). No patients discontinued therapy due to anemia.
Serum Potassium: In patients with hypertension not concomitantly treated with an ARB or ACEI, increases in serum potassium greater than 5.5 mEq/L were infrequent (0.9% compared to 0.6% with placebo) [see Contraindications (4) and Warnings and Precautions (5.6)].
Serum Uric Acid: Aliskiren monotherapy produced small median increases in serum uric acid levels (about 6 micromol/L) while HCTZ produced larger increases (about 30 micromol/L). The combination of aliskiren with HCTZ appears to be additive (about 40 micromol/L increase). The increases in uric acid appear to lead to slight increases in uric acid-related AEs: elevated uric acid (0.4% versus 0.1%), gout (0.2% versus. 0.1%), and renal stones (0.2% versus 0%).
Creatine Kinase: Increases in creatine kinase of greater than 300% were recorded in about 1% of aliskiren monotherapy patients versus 0.5% of placebo patients. Five cases of creatine kinase rises, 3 leading to discontinuation and 1 diagnosed as subclinical rhabdomyolysis, and another as myositis, were reported as adverse events with aliskiren use in the clinical trials. No cases were associated with renal dysfunction.
Postmarketing Surveillance
Odds Ratio = 0.718
Drug Property Information
ATC Code(s):
C09DX02 -

aliskiren hemifumarate

C09DX -
C09D -

"ANGIOTENSIN II ANTAGONISTS, COMBINATIONS"

C09 -

AGENTS ACTING ON THE RENIN-ANGIOTENSIN SYSTEM

C -

CARDIOVASCULAR SYSTEM
C09XA02 -

aliskiren hemifumarate

C09XA -

Renin-inhibitors

C09X -

OTHER AGENTS ACTING ON THE RENIN-ANGIOTENSIN SYSTEM

C09 -

AGENTS ACTING ON THE RENIN-ANGIOTENSIN SYSTEM

C -

CARDIOVASCULAR SYSTEM
C09XA52 -

aliskiren hemifumarate

C09XA -

Renin-inhibitors

C09X -

OTHER AGENTS ACTING ON THE RENIN-ANGIOTENSIN SYSTEM

C09 -

AGENTS ACTING ON THE RENIN-ANGIOTENSIN SYSTEM

C -

CARDIOVASCULAR SYSTEM
C09XA53 -

aliskiren hemifumarate

C09XA -

Renin-inhibitors

C09X -

OTHER AGENTS ACTING ON THE RENIN-ANGIOTENSIN SYSTEM

C09 -

AGENTS ACTING ON THE RENIN-ANGIOTENSIN SYSTEM

C -

CARDIOVASCULAR SYSTEM
C09XA54 -

aliskiren hemifumarate

C09XA -

Renin-inhibitors

C09X -

OTHER AGENTS ACTING ON THE RENIN-ANGIOTENSIN SYSTEM

C09 -

AGENTS ACTING ON THE RENIN-ANGIOTENSIN SYSTEM

C -

CARDIOVASCULAR SYSTEM
Active Ingredient:
aliskiren hemifumarate
Active Ingredient UNII:
C8A0P8G029
Dosage Form(s):
tablet, film coated
Route(s) Of Administrator:
oral
Chemical Structure: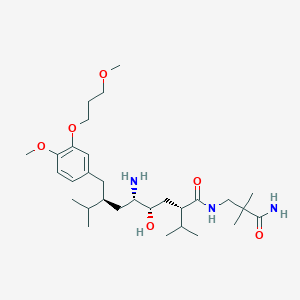 SMILE Code:
CC(C)[C@@H](CC1=CC(=C(C=C1)OC)OCCCOC)C[C@@H]([C@H](C[C@@H](C(C)C)C(=O)NCC(C)(C)C(=O)N)O)N